---

BUICK AND AMAZON† : A SMARTER OWNER EXPERIENCE IS HERE
Buick and Amazon®† are delivering a more convenient and connected owner experience. Your life just became simpler in ways you never saw coming. You can now control key vehicle functions with your voice using the available AlexaTM enabled devices†.
MYBUICK® SKILL FOR ALEXA†
---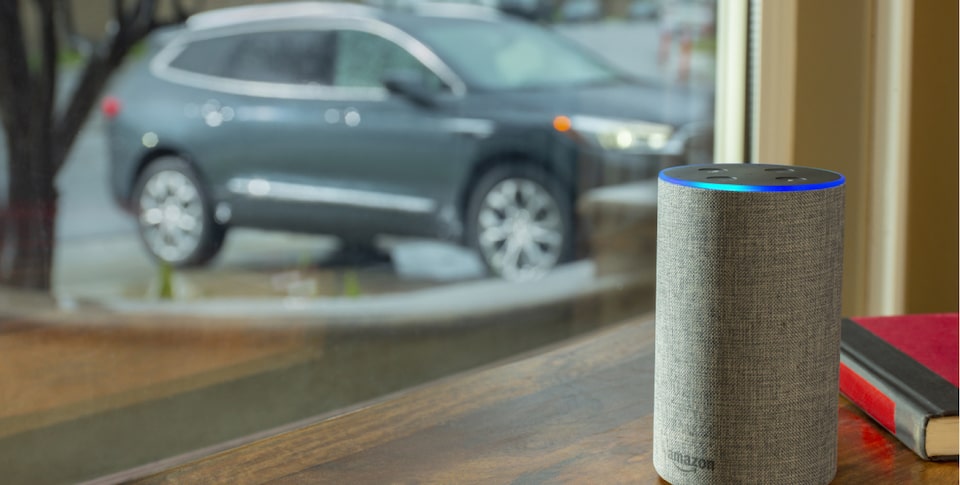 ---
YOUR BUICK HAS SKILLS

With the myBuick® skill for Alexa,† you can use your voice to start or stop† your engine and lock or unlock† your doors using your Amazon† Echo or other Alexa†-enabled devices. You'll need the available Remote Access Plan† and a properly equipped vehicle to get started; commands are only available in English.
1. LOG INTO AMAZON

Go to alexa.amazon.com or the Amazon Alexa mobile app and log into your account.

2. SELECT THE MYBUICK® SKILL

Search for and select the myBuick® skill. Click or tap "Enable."

3. LINK TO OWNER CENTRE
Link the skill to your Owner Centre account with your username and password.

Alexa† is Amazon's† cloud-based voice service. You can ask Alexa† to answer questions, play music, deliver the news, get weather and traffic reports, control features of your smart home and more. The Alexa† service is always getting smarter, both for features, and for enhanced-language understanding and accuracy. Because Alexa's† knowledge base is in the cloud, she continually learns and adds more functionality, every hour, every day.

Skills are voice-driven Alexa† capabilities built by third-party developers. If you use an Alexa-enabled device†, you can view available skills and enable or disable certain skills from alexa.amazon.com or the Amazon Alexa app†. Once you have enabled a skill, you start using it by saying any of the commands listed below. Since Alexa is built into the cloud, she is always getting smarter.
With an enabled vehicle, all commands begin with "Alexa, ask Buick…" Finish the command with one of the phrases below:
• "…to start my vehicle."
• "…to stop my vehicle."
• "…to lock my vehicle."
• "…to unlock my vehicle."
• "…for help."
• "…what vehicles are in my garage."

Properly equipped Buick vehicles support the myBuick® skill for Alexa†. If your vehicle supports remote functionality on the mobile app, it will support the myBuick® skill for Alexa†. The available Buick Remote Access Plan† is required.

You can get help by calling a Connection Centre Team advisor at 1-877-426-1299.