---
TROUBLESHOOTING FRONT CRASH AVOIDANCE BRAKING FEATURES 

If your vehicle is equipped with one or more front crash avoidance† braking features and you are unsure if the features are working properly, below are troubleshooting steps. Also listed below are features that may provide automatic emergency braking in your vehicle, depending on your model:

Automatic Emergency Braking and Enhanced Automatic Emergency Braking
---
---
DO THIS FIRST BEFORE TROUBLESHOOTING FRONT CRASH AVOIDANCE BRAKING FEATURES
Before you get started, make sure you are familiar with the different types of available front crash avoidance braking features your vehicle may be equipped with.This will help you make sure you understand the specific automatic emergency braking functionality found on your vehicle, how the feature normally operates and what can cause unexpected and undesired crash avoidance braking events.
For more Information, check out the Informational articles linked above and your vehicle's Owner's Manual.
FRONT CRASH AVOIDANCE BRAKING FEATURE ISN'T WORKING PROPERLY

Keep the feature's camera, located behind the rearview mirror, clean and free of obstructions, as well as the radar sensors located around the vehicle

See the "Keeping Camera and Radar Sensors Clean" section below for more information

If you see a yellow icon in your vehicle gauge display that looks like two vehicles about to collide, that means automatic braking has been turned off or may not function properly. Here's why that might happen:


If you've turned one or more of the forward-facing automatic emergency braking features Off or to Alert in your vehicle Settings menu
If the feature's camera is obscured or the lens is dirty
If the feature's radar sensors are obscured or dirty

Front crash avoidance braking features may automatically brake the vehicle suddenly in situations where it is unexpected and undesired. It could respond to a turning vehicle ahead, guardrails, signs or other non-moving objects. To override front crash avoidance braking, firmly press the accelerator pedal if it is safe to do so.
KEEPING CAMERAS AND SENSORS CLEAN

Check your vehicle Owner's Manual for a diagram that shows the location of the feature's cameras and/or sensors and how to clean them. This can be found in the "Driver Assistance Systems" section of the Owner's Manual

In general, sensors and cameras are located in the following areas:


Front and rear bumpers and the area below the bumpers

Front grille and headlamps

Front camera lens in the front grille or near the front emblem
Front side and rear side panels

Inside the windshield in front of the rearview mirror

Side camera lens on the bottom of the outside mirrors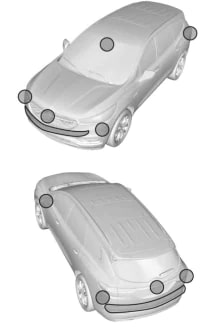 Owner's Manual excerpt shown for reference only.
GENERAL FRONT CRASH AVOIDANCE BRAKING FEATURE TROUBLESHOOTING

The following conditions may affect the performance of crash avoidance braking features:


Bad weather, poor visibility or poor lighting conditions
If there is not enough time to avoid a crash

If the feature's camera (located behind the rearview mirror) or radar sensors are obstructed in any way, not properly cleaned or if the vehicle has been damaged in certain ways, the system might not perform as expected


For example, this can happen if the camera or sensor area is covered with snow


If there are malfunctions within the vehicle's Electronic Stability Control system (ESC), or that system needs service, Automatic Emergency Braking (AEB) or Enhanced Automatic Emergency Braking (EAEB), as well as Front Pedestrian Braking (FPB), may not be available. On some vehicles, a yellow icon will display, indicating AEB, EAEB and/or FPB are not available at this time. You may also see a message telling you that one or more features are not available
Front crash avoidance braking features may have difficulty detecting the following objects:

Vehicles that are low to the road surface or have a small or irregular shape
A truck or trailer that has no cargo in the cargo bed
Vehicles with cargo extending from the back end

Weather conditions may also affect the performance of front crash avoidance braking features:

Conditions that are associated with low visibility, such as fog, rain, snow or road spray, may limit the performance of the system
Water droplets from rain or snow that remain on the radar sensors may also limit the system's ability to detect objects.
RELATED LINKS AND RESOURCES

---
Q&As

---
No. They are not designed to park a vehicle, but they can automatically activate last-second, hard emergency braking to avoid a parking collision under certain conditions.

If the camera or radars are obstructed in any way or not properly cleaned, the system might not perform as expected. Check your Owner's Manual for more information on cleaning the sensor system and the locations of the sensors.

To find out if your vehicle has this feature, contact your dealer or refer to your vehicle's equipment list. Please check your Owner's Manual for more information about features.
---
---
LOOKING FOR SOMETHING ELSE?

NEED MORE HELP?

Communicate with one of our specialists.